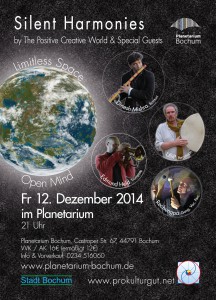 Silent Harmonies. Limitless Space – Open Mind
Silent Harmonies "are the sounds at the end of the year that, under the dome of the planetarium, lead us in a newkind of endless openness:  Relax, dream, let go and allow new things to happen. The music arises from the now, in interaction with the fantastic, moving images from travels through the galaxies. Silent harmonies create relaxed moments and create a variety of associations that match the fascinating projections.
The sound combinations work through the natural sound of acoustic instruments. The Indian bamboo flute
, the universal sound space of the gong, chanted overtones and healing mantras open hearts. Accompanied by the sensitive playing of the flugelhorn and the muffled trumpet, the trance of a pulsating percussion gently guides us through the vastness of space. For the first time, the artists will perform together with the fascinating keyboard artist Kristian Terzic. The listeners expect intensive sound spheres with an equally unique astro-show. Let the music inspire you and let your imagination run wild.
The artists come from different traditions: Classical, Indian and Western music, world jazz, free improvisation and intuitive music. What unites them is the understanding of universal harmony and a reality inner peace in the here and now. The music thus sounds fresh, impressive, inspiring and surprising in a positive sense.
Dinesh Mishra, master flute player from Mumbai: Bansuri flutes
Rechungpa: gong, singing bowls, percussion, overtone
UlliP: Percussion
Edmund Held – trumpet and flugelhorn
Special Guest: The Croatian star keyboard player Kristian Terzic
Fr. 12/12/2014 | Planetarium Bochum | Castroper Str. 67
Start: 21:00 o' clock