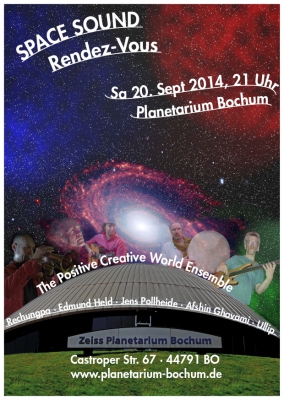 The Positive Creative World plays at Planetarium Bochum
Space Sound Rendez-Vous – Again we invite you to a new, unique sound journey under the wonderful sky dome of the Planetarium Bochum.
The core team of THE POSITIVE CREATIVE WORLD ENSEMBLEs will enchant the audience with its fantastic projections, spherical sounds, pulsating rhythms and distinctive sound images.
RECHUNGPA, with its earthy and spacey sounds of gong, overtone vocals, electronic and percussive instruments, ULLIP (Ulli Putsch) with its dynamic and variable percussion sounds, JENS POLLHEID at his grooving bass, AFSHIN GHAVAMIs fascinating flamenco sounds and EDMUND HELD, with empathetic and sensitive music.
For some years now, the "THE POSITIVE CREATIVE WORLD ENSEMBLE" has been thrilling its audience with "Special Guests" in the planetarium, at the Ruhrstadt-Festival, in NRW and on tour through Europe.
With Space Sound Rendez-Vous, the artists develop the universal language of music together in changing compositions and with new musical encounters – every performance becomes a unique experience. The musicians share the positive energy of music with the world and use it in a holistic sense for communication, peace work and personal growth. In the foreground is the joy of playing and the expression of common creativity in contact with the audience.
Intuitive music and instant composings combined with composed elements and associative themes are the speciality of this extraordinary group. Powerful, invigorating, grooving rhythms and uplifting, unobtrusive sounds of acoustic and electronic solo instruments determine the sound. Let yourself be motivated: Swinging along, recharge your batteries, relax, develop ideas and take new impulses with you into your everyday life.
Thu, 17.09.2015
| Planetarium Bochum
| Castroper Str. 67
Admission: 20:00 | Start: 21:00 |
Tickets: 16€ discount 12€.
Tickets can be reserved online at www.planetarium-bochum.de or by calling 0234- 516060. They are also available at the box office.