The German sound artist Rechungpa fills the space with the sound of gongs, voice and percussion in waves of different intensity and density, similar to the rhythms of the tides. By this we can reach in regular intervals small islands in which we encounter wisdom and philosophical stimulation of different cultures.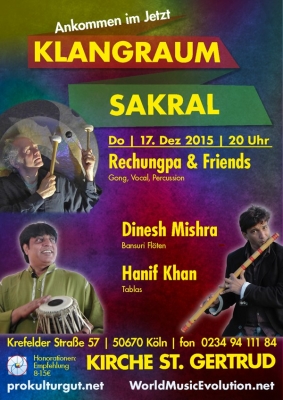 In this landscape of insight we encounter relaxing, meditative and stimulating sound experiences, music pieces and instant composing referring to the situation and atmosphere of the respective venues and its visitors.
Through the symbiosis of the existing space and the spherical performance of the musicians, an extraordinary and mystical atmosphere is created.
The audience and the players share the same space and are carried away by the experienced sounds to a world of senses and experiences.
Rechungpa: Soundscapes, Gongs, Voice/Sound, Percussion and often with a selection of his friends such as:
DINESH MISHRA or STEPHANIE LEPP: Bansuri Flute
USTAD HANIF KHAN or PANDIP SANDIP BHATTARCHARYA: Tabla
JIM GALAKTI or EDMUND HELD: Trumpet, Flugelhorn
STEVKO BUSCH: Piano – Keys
ANTJE VETTER or SUSANNE SCHULZ: Violin
ANDREAS HEUSER or DANIEL DÜRING: Acoustic & electric Guitar