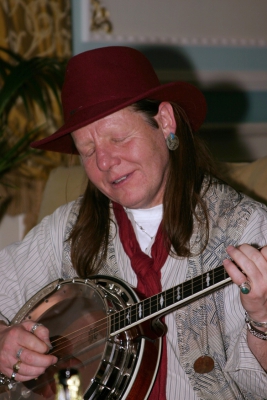 KittC Delaney is a multi instrumentalist, songwriter and performer of modern folk and traditional irish music.
KittC Delaney was born in Dublin, Ireland. During his more than 30-year-career in music, he has travelled around the world. KittC has performed his music for Irish plays such as "The Hostage" by Brendan Behan in Berlin and at the Schauspielhaus Bochum under the direction of Peter Zadek and with the music director Charlie Wessler and Herbert Grönemeyer as actor.
The piece was a huge success and KittC set out to play at the San Francisco State University, California. He later performed music in the play "The Tinkers Wedding" by John Millington Synge with Charlie Wessler as music director in Neuss.
His music has taken him to the "Tivoli Garden" in Copenhagen, to the United States in Irish folk bars, the McGurks pub in St. Louis in 1980 with Frank Emerson and his band Tara, a large, traditional, contemporary music pub. He was the first to play in the Kells Irish pub in Portland, Oregon and to play in that area as resident for three years was a great success for him. Likewise there were performances at the "Bumbershoot Festival" in Seattle and at the "Art Quake Festival" in Portland.
KittC played the "Derry Air" for senator Ted Kennedy in "The Dublin Phoenix Park Hotel" in Washington DC. Every now and then, he played with Billy McComiskey and Brendan Mullivihill in "The Irish Tradition" and also in "Celtic Thunder", the "Jessie & Terry Winch" with Linda Hickman & Tony Demarco in Washington DC and in Baltimore in the late 70s.
For more than 40 years now he has held many concerts in folk clubs and festivals back at home in Ireland, in the whole of Europe, in the United States, the Emirates and in Canada.
As a result he met many artists including Van Morrison, John Prine / Sinead O'Connor / Liam Clancy & Tommy Makem / Tommy Peoples / Jessie Ballard / John Vaughan / Emmylou Harris / Mick Hanley / Derroll Adams / Gary Moore / Kris Kristofferson / Willie Nelson / Bonnie Raitt and many others on his tours around the world. KittC is a multinstrumentalist und plays Tenor Banjo, the Guitar, Mandolin, Fiddle, mouth harp, Irish Drum (Bodhran) and is also a fine Songwriter and Singer. His extensive experience and professional approach make him one of the artists who delivers a strong performance every time in concerts, alone or in company.
Hompage KittC Delaney: http://www.kittcdeemusic.com