FUSION WORLD MUSIC
– Happy – Animating – Mindful – Relaxing … and always fresh ideas
From CHILLY JOURNEYS to MANTRA POP …
… The Positive Creative World Ensemble – Intuitive Music for Happiness, Friendship and Development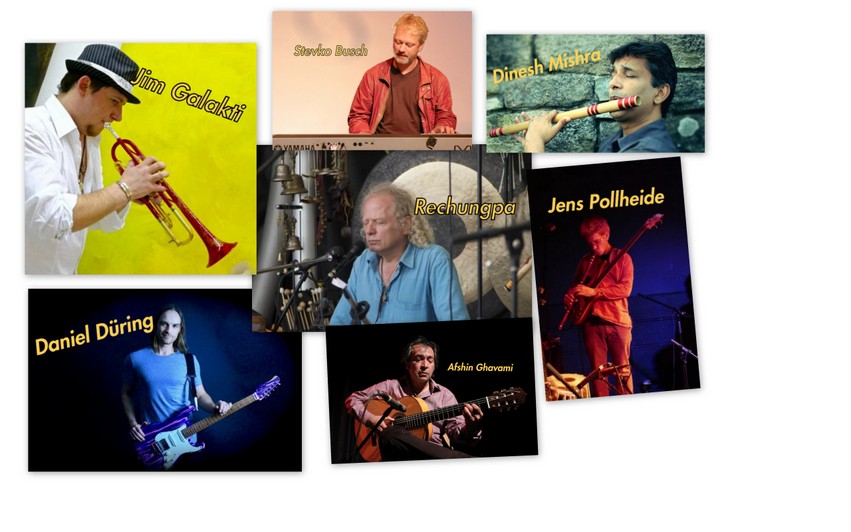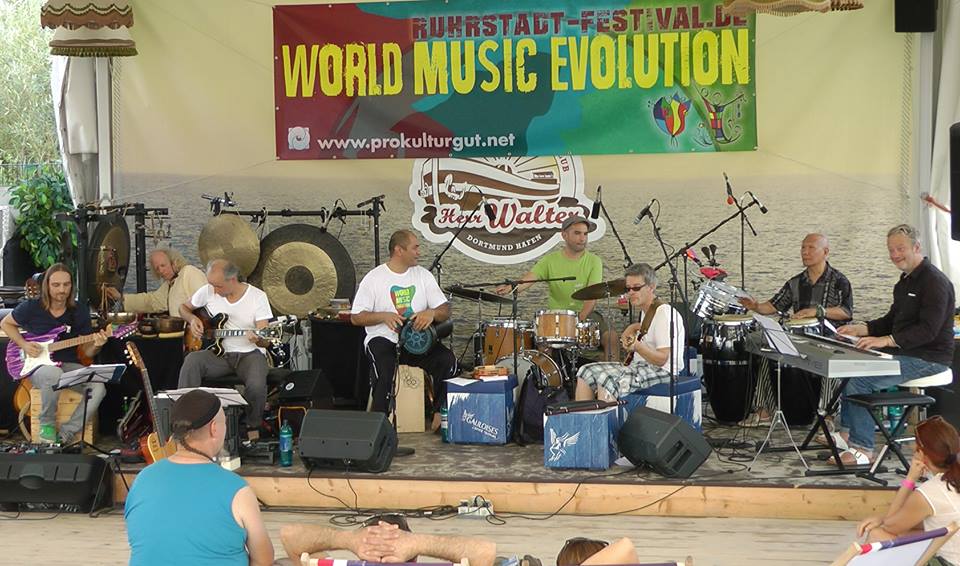 WORLD MUSIC EVOLUTION – Ruhrstadt-Festival at Herr Walter,Dortmund on 30.08.2015
The Positive Creative World meets Abbos Kosimov, Yonga Sun, Nippy Noya
The World Fusion Ensemble THE POSITIVE CREATIVE WORLD
Plays with 5-7 musicians and integrates "special guests" of the region / the host country
Space and time to experience new sound worlds
Delicate and powerful, invigorating and grooving rhythms · uplifting, touching and enthralling sounds · mantras and sensual lyrics … a genre-transcending fusion of the music of cultures. – For artists and audiences this means: Resonate, refuel your energy, relax, develop ideas and take new impulses into personal everyday life.
Intuitive music and instant composings combined with composed elements and associative themes are the speciality of this extraordinary group. The musicians continually explore new, fresh ways of expressing their archaic and modern, acoustic and electronic instruments and find perfection in harmonious interaction. The type and concept of the intercultural fusion ensemble is unique not only in NRW.
The artists develop the universal language of music together in alternating compositions and with new musical encounters – each performance becomes a unique experience. Bringing positive energy with music into the world and using it for communication, peace keeping and personal growth is the idea – with joy in playing, common creativity, in touch with the audience.
Since 2007 THE POSITIVE CREATIVE WORLD ENSEMBLE has been inspiring its audiences regionally and nationally (e. g. Planetarium Bochum, Ruhrstadt-Festival 2012/13/15, cultural centres in the Ruhr area, Indian Embassy Berlin) as well as in other European countries, e. g. in Holland, Spain (e. g. in the caves Cueva de Nerja 2013/14/16 and stages in the province of Malaga).
In the international network of world music, the TPCW Ensemble focuses on creativity and intercultural exchange across national borders. As part of the world music scene in NRW, "The Positive Creative World" is jointly responsible for spreading the regional characteristics of world music. As cultural ambassadors, the artists contribute to the process of world music evolution.
The great success of the historically first Indian-German educational and cultural project "SRISHTI" (creation) in 2016, not least through the participation of eight musicians of the TPCW ensemble, led to an invitation to India. As cultural ambassador of the NRW world music scene and supported by the Ministry of Culture and Science of the State of NRW, TPCW will play three concerts in India in 2017 – in encounter and together with well-known masters of Indian music.
The Positive Creative World Ensemble plays the India Tour 2017 with
Gunnar Nesterov, Latin Percussion and Drums

Jens Pollheide, a world and jazz musician with a German-wide popularity, with a grooving bass as well as classical and ethnic flutes (Embryo / Transorient and others)

Ivan Snegur, guitarist and saxophonist from Kazakhstan

Jim Galakti, Russian composer, pianist and trumpeter (Tape 5)

Rechungpa, with Gong, Voice, Soundscapes and Percussions (Ensemble Leader)  

Hanni Braun (Guest), Saxophone

The very Special Guest from Mumbai and Rajasthan

Ustad Hanif Khan, master of tabla playing in Indian film music and classical music and companion of the legendary Sarangi player Ustad Sultan Khan

and other musicians from Northern India (TBA)
Guest performances and musicians
New requests for guest performances, concerts at interesting venues and festivals as well as in special locations (e. g. planetariums, caves, natural stages, art spaces) and suggestions for the integration of regional guest musicians into the show are welcome.
For each concert / tour, Rechungpa provides a representative line-up of musicians from all over the world. 5-7 musicians from the ensembles pool  and gladly integrates regionally known "special guests" of the respective host country. The local ambience and the expected audience are also taken into account. Thus there are always fresh impulses for new musical creations.
Other members and special guests of The Positive Creative World Ensemble:
Abbos Kosimov, the phenomenal Uzbek Doyra master from USA

Afra Mussawisade, the world music and jazz percussionist from Iran

Afshin Ghavami, Persian-born Bochum and flamenco guitar player

Andreas Heuser, with various guitars, violins and electronics he lets spherical clouds of sound, oriental melodies and pulsating rhythms float through the room

Daniel Düring, e-/guitarist with various world music bands

Dimitri Markitantov, Russia/NRW, Saxophone

Dinesh Mishra, internationally popular Indian master flutist at the Bansuris

Dirko Juchem, the saxophone and beatbox flute specialist

Edmund Held, Ukraine/NRW (trumpet & flugelhorn)

Eric Peachey, the former rock drummer and today's world music percussionist from London and Malaga

Jamie Olano, keyboard player with Philippine roots

Jho Kaufmann, piano and accordion

Jorge Pardo, the multi-award-winning Spanish saxophonist and flutist of Flamenco Jazz

Kilema, a fascinating multi-instrumentalist from Madagascar and Andalusia

Kristian Terzic, the composer and pianist from Rovinj / Istria in Croatia who has won several awards as best instrumentalist of the year

Martin Pauls, excellent drummer in world music bands and TPCW

Masankho Banda, from Malawi, Central Africa with InterPlay, African Dance, Healing & Storytelling

Nicola Hein, guitar

Nicolas Schwabe, flute

Nippy Noya, the legendary Conga percussionist from Indonesia/NL

Paolo Dinuzzi, Italy/NRW on bass

Paulina Abufhele Meza, Chilean artist with dance & performance

Patrick Swiatek, violin

Praful, Sax n Flutes

Sandip Bhattarchaya, the sensitive tabla master and percussionist from India

Sonnica Yepes, the Spanish singer and composer

Stephanie Lepp, silver and bamboo flutes

Stevko Busch, multi-award-winning jazz and improvisation musician on piano and composer from D/NL

Susanne Schulz, viola and violin

Sya Rabstein, vocals

Vic Anselmo, the Latvian singer with her fantastic voice inspires the creational process of the other world musicians again and again

Wilfried Shevik, Keys

Yonga Sun, drummer and percussionist with Korean roots
Have fun checking out our videos and audio 🙂
The Positive Creative World Ensemble – ♫ Watch & Listen
YouTube Playlist: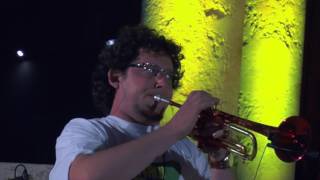 Saloni - by The Positive Creative World Ensemble. TPCW - Croatia Tour 2016 - Istra, Pula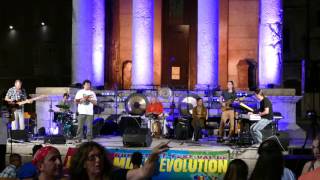 Like Time Before - by The Positive Creative World Ensemble. TPCW - Croatia Tour 2016 - Istra, Pula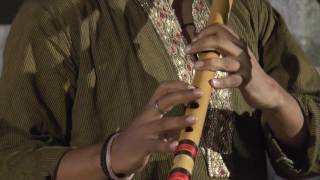 Ganga - by The Positive Creative World Ensemble. TPCW - Croatia Tour 2016 - Istra, Pula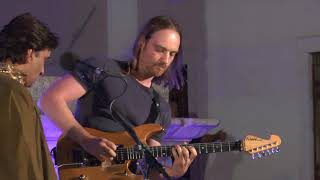 Cat & Dog Variation - by The Positive Creative World Ensemble. TPCW - Croatia Tour 2016 - Pula
Saloni - by The Positive Creative World Ensemble. TPCW - Croatia Tour 2016 - Istra, Pula

Like Time Before - by The Positive Creative World Ensemble. TPCW - Croatia Tour 2016 - Istra, Pula

Ganga - by The Positive Creative World Ensemble. TPCW - Croatia Tour 2016 - Istra, Pula

Cat & Dog Variation - by The Positive Creative World Ensemble. TPCW - Croatia Tour 2016 - Pula
Ruhrstadt-Festival 2015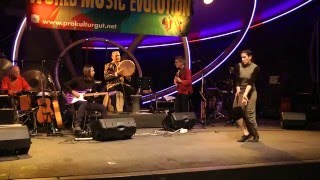 E Grooves - The Positive Creative World Ensemble. Ruhrstadt-Festival 2015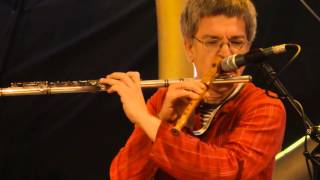 Cat & Dog – The Positive Creative World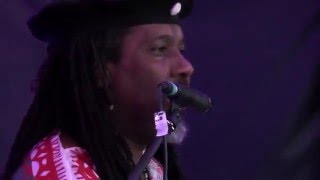 The Positive Creative World featuring KILEMA
OM TARE - The Positive Creative World meets Pandit Sandip Bhattacharya & Bahr Narenj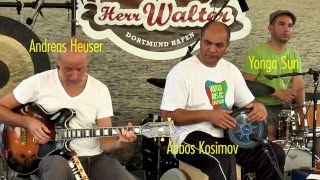 RED CAT (A.Heuser) - The Positive Creative World meets Abbos Kosimov, Yonga Sun and Nippy Noya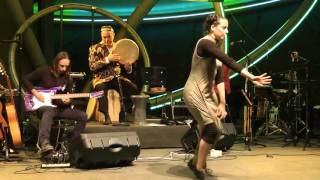 Free Improvisation - The Positive Creative World meets Abbos Kosimov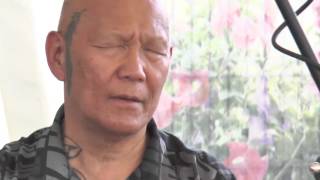 Nippy Noya Solo - The Positive Creative World Ensemble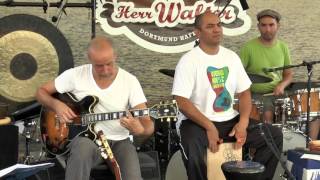 Rainbow Shower - The Positive Creative World Ensemble, Herr Walter, Dortmund am 30.08.2015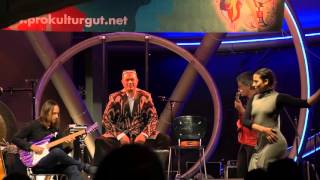 Green Tara – The Positive Creative World @ Ruhrstadt Festival, Bermuda3Eck Bochum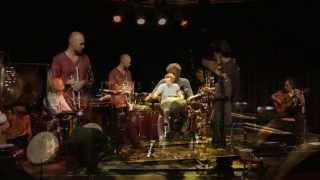 Saloni - The Positive Creative World @ Börse Wuppertal
E Grooves - The Positive Creative World Ensemble. Ruhrstadt-Festival 2015

The Positive Creative World feat. Abbos Kosimov – Ruhrstadt-Festival am 6. September 2015 Abbos Kosimov – Percussion Daniel Düring – Gitarre Jens Pollheide – Flöte, Bass Rechungpa – Gongs, Vocal, Percussion Paulina Abufhele Meza – Tanz

Cat & Dog – The Positive Creative World

The Positive Creative World feat. Abbos Kosimov – Ruhrstadt-Festival am 6. September 2015 Rechungpa – Gongs, Vocal, Percussion Daniel Düring – Gitarre Abbos Kosimov – Percussion Jens Pollheide – Flöte, Bass

The Positive Creative World featuring KILEMA

Ruhrstadt-Festival auf der Kap Bühne im Bermuda3Eck, Bochum The Positive Creative World zusammen mit Kilema

OM TARE - The Positive Creative World meets Pandit Sandip Bhattacharya & Bahr Narenj

Ruhrstadt-Festival auf der Burg Blankenstein, Hattingen The Positive Creative World zusammen mit Pandit Sandip Bhattacharya & Bahr Narenj

RED CAT (A.Heuser) - The Positive Creative World meets Abbos Kosimov, Yonga Sun and Nippy Noya

Ruhrstadt-Festival bei Herrn Walter, Dortmund The Positive Creative World meets Abbos Kosimov, Yonga Sun and Nippy Noya.

Free Improvisation - The Positive Creative World meets Abbos Kosimov

Ruhrstadt-Festival auf der Kap Bühne im Bermuda3Eck, Bochum. The Positive Creative World mit Abbos Kosimov

Nippy Noya Solo - The Positive Creative World Ensemble

WORLD MUSIC EVOLUTION - Ruhrstadt-Festival auf dem "Eventschiff" Herr Walter, Dortmund am 30.08.2015 The Positive Creative World zusammen mit Abbos Kosimov, Yongo Sun, Nippy Noya

Rainbow Shower - The Positive Creative World Ensemble, Herr Walter, Dortmund am 30.08.2015

WORLD MUSIC EVOLUTION - Ruhrstadt-Festival auf dem "Eventschiff" Herr Walter, Dortmund am 30.08.2015 The Positive Creative World zusammen mit Abbos Kosimov, Yongo Sun, Nippy Noya

Green Tara – The Positive Creative World @ Ruhrstadt Festival, Bermuda3Eck Bochum

The Positive Creative World feat. Abbos Kosimov – Ruhrstadt-Festival am 6. September 2015 Rechungpa – Gongs, Vocal, Percussion Daniel Düring – Gitarre Abbos Kosimov – Percussion Jens Pollheide – Flöte, Bass Camila Scholtbach – Tanz

Saloni - The Positive Creative World @ Börse Wuppertal
Contact and more: ArtPro – Die Künstleragentur
Info: 0049 (0)234- 9506 7319· artproagency@prokulturgut.net