USTAD HANIF KHAN
With this encounter you get the opportunity to obtain the feeling and the knowledge of Music from 8 generations from the hand of one of the best musicians in India.
HANIF was born in 1960 to a famous and traditional music family in Rajastan. Consequently, he studied music – Sarangi and Tabla since he was 7 years. He received his first lesson from his grandfather, USTAD AZIM KHAN, who was one of the best and most famous Sarangi players and singers. Among his other teachers were his brothers USTAD AZIZ KHAN and BABU KHAN. Hanif's father USTAD MAJID KHAN was a Sarangi legend as well as his 20 year old brother USTAD SULTAN KHAN
He performed for film music and international concerts with the legendary Maestro of the Indian classics: USTAD ZAKIR HUSSAIN, VICCU VINAYAK RAO, RANJIT BAROT, U.SHREENIWAS, SHIVAMANI, PT. JASHRAJ, USTAD RASHID KHAN, BHAVANI SHANKAR, PT. U SHRIWAS, L.SUBRAMANIUM, SHOBA MUDGAL and others.
Since 2012
HANIF KHAN cooperates with RECHUNGPA & THE POSITIVE CREATIVE WORLD Ensemble.
and became their Very Special Guest in various international WORLD FUSION Concerts, Festivals and Tours f.e. in Germany, Spain, Belgia, Croatia, India. He is easily able to collaborate with musicians of all genres and styles (classical, jazz, folk, world, electro,…) and fascinates his audience as well as his students.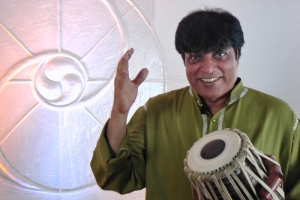 2019
CONCERTS AND
WORKSHOPS for TABLA and all PERCUSSIONS
2019 in Germany (Dortmund, Bremen), Spain (Prov. Malaga & Granada – in different venues) and France
> Dates and places  are released from the venues and our partners
Concert and Collaboration: Requests are always possible

Workshops & Private Lessons: Individual or group by Appointment
2019 June 13-22 in Bola Bochum
2019 June 25- July 8 in Monte Alegre, Alcaucín or Torre del Mar or at your place
Contact: Rechungpa 0049 151 41479643 (by phone or good messengers like telegram, signal, …)